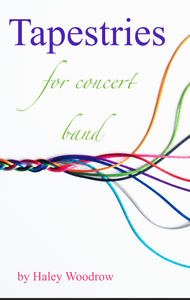 Audio and score sample can be found here: Tapestries | Murphy Music Press, LLC
The wide range of musical exposure we have immediate access to in our world today is a powerful resource allowing us to learn from each other, broadening our understanding of our differences. In my own life, I have had the pleasure of working with musicians from a wide range of nationalities, and know that performing music can be a wonderful way to create unity. This work is therefore dedicated to the blending of different cultures, both in the music and undoubtedly with the performers themselves.
I previously titled the work Melting Pot, under which name it won the 2018 VLAMO International Composition Contest. However, after much consideration, I have changed the title to Tapestries for the full work, and Tapestry for the shorter, adaptable work. I feel the imagery of many distinct colors actively coming together to make larger, more vivid pictures fits the message of the piece well, in addition to the music itself without any negative connotation. Thank you all for our evolving use of language to create a healthier educational environment and society as a whole!